Fun Things To Do In Ahmedabad
Have you turned your fun mode on? Well, you have plans, right? The plans are to have fun with your significant half or your family, and here is your destination- Ahmedabad. Going to a place where you actually don't know what to do is a mess, and you don't want to fall for the last moment of planning. We will help you pack your bags and plan a better fun time with your family and friends. There are a lot of fun things to do in Ahmedabad, so put your seat belts on, and let's drive to the fun location where every moment will add joy to your life.
Adventurous Things To Do In Ahmedabad
There is soo much to explore in Ahmedabad. You have plenty of adventurous options that are safe and fun at the same time. Here are some adventurous things that you should definitely not miss out in Ahmedabad.
If you are in Ahmedabad, a Jetski ride is a must experience adventure. Feel like a water god rushing through the water road making its way with a jet ski. You will experience the purest form of adventure here at Entarctica SeaWorld with this fantastic super ride. If you are new to this, entartica's experts will give you lessons to make sure you enjoy a safe ride. Let your adventure hunger be fed with the most delicious adventure you have ever experienced.
If you have decided to give your kids a burst of fun, the Kids pedal bike is the best. This ride is for kids above 4+ years of age. This ride will be the most elegant one with a fantastic experience. Becoming the king or queen of their own boat and exploring the riverside with safety is all that will light up their faces and add joy to their moments.
The banana boat ride is just perfect for a group of people like family or friends. It can accommodate more than 3 people at a time. You can explore the riverside within a comfortable distance, a ride that lasts for 15 minutes but is worth every minute. The ride is safe and needs no prior experience with boat riding, just a will to explore the amusement.
You might have heard of bumper cars, but have you seen them riding on water. Well, here at Entarctica SeaWorld, it is possible. The kid's bumper boat is here to give your child the most fantastic ride. These boats will leave no stone unturned to give your little ones the experience of driving a bumper car in the water. It is safe because of the shield tucked in front to avoid bumping into other boats, making it safe.
Sabarmati river cruise is perfect and flexible for any occasion, from a simple, peaceful ride to party events. If you want to make your loved ones memorable or have a quiet moment with them, the cruise is good to go for such events. It will be one of the best things to do in Ahmedabad in the evening, as this ride will paint the memory of the most magical hours of your life.
A yacht ride will be the most enticing experience with your family or loved ones. You can throw a party or just want to make some moments memorable and unique; the yacht will add magic to those moments. You won't regret spending time on this beautiful bewitching ride that you never want to get off. Wanna feel like a celebrity? Just become one on the Entarctica Yacht with a grand red carpet entry to music and cheers.
What does it feel like walking on water? Don't get surprised because the Aqua roller will take you through the same experience. Aqua rollers are best for people willing to experience water fun closely. Roll out the fun with the roller and keep walking inside it to enjoy the roller water ride.
You must have cycled like many times on a road, but have you ever thought of riding it on water. If you haven't, you shouldn't miss your chance of riding it on the water. Aqua cycles are alluring, and the best part, you may ask? It comes with two and four seats, making it the perfect bicycle that moves forward with the efforts of everyone sitting on
that bike to make it adventurous. Ride it with your partner or friends to cheer up your mood.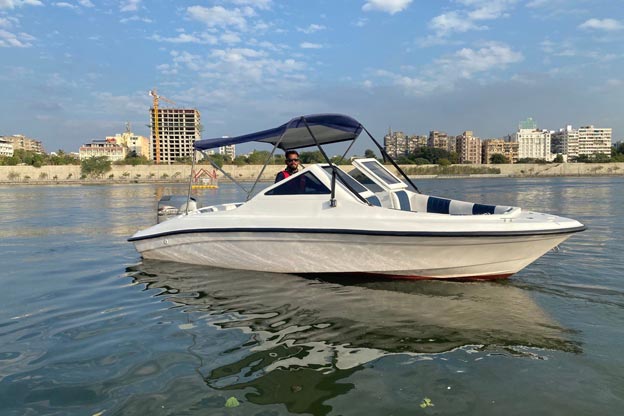 It is something you should never miss. Speed boat is one activity that can be counted as one of the best things to do in Ahmedabad for couples and friends. Speed boats are known for smooth butter rides on the water's surface. So if you have a mood for making things go special, just do it with speed boats.
If you think about the best things to do in Ahmedabad for couples, Pontoon boats are best. You can arrange the best romantic candlelight dinner date with top-notch boat decor to make the ever shake worth it. It will be something hard to get off the mind of your loved ones. Capture your beautiful moments with professional photoshoot options to cherish the memory forever.
Are you ready for your visit to Ahmedabad and want to have some fun time here? You cannot afford to miss the best fun things you can enjoy in Ahmedabad. Entarctica Seaworld will be the perfect destination to land on and grab every possible fun in one place with your family, friends, and loved ones.