Travelling is enjoyable so is the adventure. It's exciting to walk through the beautiful lush green valleys and also get to explore them closely. If you want to experience the same, why not consider taking a kayak tour in Coimbatore? You may experience the adrenaline rush in Coimbatore via kayaking in a way you might never have thought possible. Imagine paddling about and admiring the famous sights. Dreamy, isn't it? You can get tons of beautiful pictures of nature closely.
The exciting pastime of kayaking involves navigating across the water in a small boat with the use of a double-bladed paddle. It enables the driver of the boat to navigate across waterways by sitting face forward and moving the boat forward with alternating side-to-side strokes with the paddle. The upper torso is accessible and exposed as the paddler sits in the cockpit with the legs extended beneath a covered deck. Kayaking is simple and never runs out of style. The best seasons for a relaxing ride are spring, summer, and fall. In general, people prefer warm weather to cold weather. This creates ideal circumstances for recreational and sports kayaking so that you may explore a place or experience the thrill of the activity via complicated routes.
Kayak
Double-bladed paddle
Helmet
Life jacket
Safety goggles
Durable shoes or footwear
Waterproof bag
Top Destination for Kayaking
A nature lover would adore Coimbatore, located in Tamil Nadu. There are many intriguing locations in Coimbatore, from stunning waterfalls to verdant green woods and undulating valleys. To this exquisite location in South India, acres of tea and coffee plantations, wildlife parks, and hazy hills will entice you.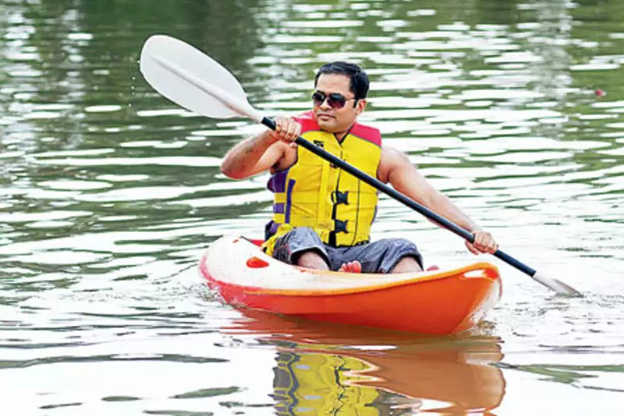 Periyakulam lake is recently renovated and now host different water sport activities. This lake was explored by Entartica Sea world, and it's incredible to see how it has changed the face of this lake into a beautiful mesmerizing lake in its natural form. Although Entartica SeaWorld host many water sport activities, kayaking remains the most popular among adventurers. The reason is it gives a close view of nature; one can experience the beauty of nature in real-time. Coimbatore is filled with nature's treasures with lush green forest, breathtaking mountains, and sparkling water of the waterfalls. Entartica SeaWorld is the place located at Periyakulam lake, so if you want to give a kick to your adventurous side, this is your place to have a thrilling kayaking experience.
Other thrilling water sports include:
Jet ski ride
Speed boats
Yacht
Pontoon pedal boats
Cruise
The top kayaking trips in Coimbatore are unquestionably the way to go if you're searching for a distinctive outdoor experience. You can explore waterfalls and streams that you would never otherwise be able to see. It's the best place to kayak and canoe in Coimbatore that will astound you. Visit Periyakulam lake to experience fun like never before.