Exploring the Wonders of Ahmedabad Flower Show 2023 with Entartica Sea World
The Ahmedabad Flower Show 2023 organized at the Riverfront Flower Park will reintroduce the perfume of newly blooming flowers and exploding blooms to Ahmedabad. Flower show in Ahmedabad transforms Sabarmati Riverfront Flower Park into a floral wonderland.This flower show has been organized since 2013 and keeps getting better every year.
The main objective of the flower show is to inform visitors about plantations and flowers by putting on a unique display of exquisite and unusual flowers. The flower show in Ahmedabad draws typically tens of thousands of people to Ahmedabad city each year.
Riverfront Flower Park Ahmedabad will feature exhibits of different farms and nurseries, gardening, and kitchen garden flowers and plants. Various stalls, such as Salvia Red and various sculptures made from it, will also be a source of attraction for visitors.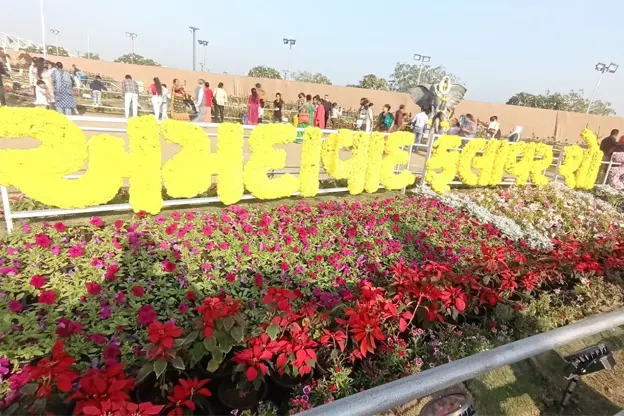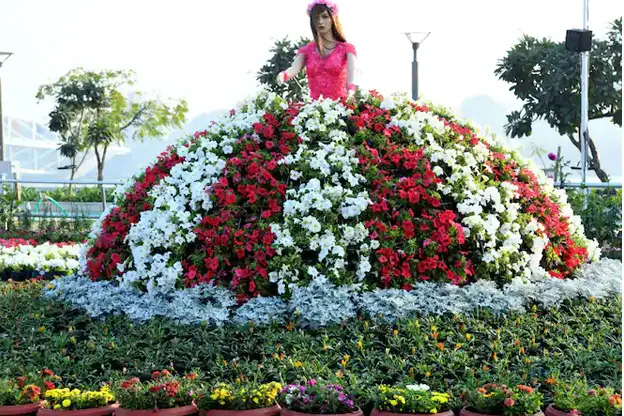 Flower show in Ahmedabad features a variety of floral creations depicting the Azadi ka Amrit Mahotsav G20, U20, Millet Year, yoga, and Barbie dolls, made from both domestic and imported flowers.The event features colorful displays of flower-crafted replicas of various animals and birds, including giraffes, butterflies, deer, flamingos, peacocks, and Mickey Mouse.
The Ahmedabad Flower Show 2023  showcases a variety of native and exotic flowers like sevanti, galgota, verbena, petunia, among others. The unique floral sculptures at the show are also a major attraction for visitors.The flower show also has an exhibition and stalls of gardening equipment
The flower show in Ahmedabad is based on different themes and presents a dazzling array of colors and rich fragrances of colorful and freshly blossoming flowers.You will be mesmerized by the breathtaking view of the Flower park. You will be surrounded by the color and fragrance of the gorgeous and mysterious blooms and greenery.You won't ever forget the experience of taking a walk around the riverfront flower park.
You can also witness Sabarmati riverfront kite festival while strolling around the beautiful Riverfront Flower Park.
The International Kite Festival in Ahmedabad is among the most prominent festivals that is celebrated in Gujarat.Ahmedabad hosts the International Kite Festival 2023 as part of the official celebration of Uttarayan, bringing kite makers from all over the world to demonstrate their unique creations and wow the crowds with amazing kites.
The International Kite festival in Ahmedabad 2023 provides lots of fun and beautiful sights to remember for a long time. The beautiful blue skies in Ahmedabad are filled with colorful kites flying around from dawn till dusk.
While adoring the Beautiful Flower show in Ahmedabad & International Kite festival 2023 at Sabarmati riverfront, you can also enjoy water rides at Entartica sea world for a complete family experience.
Entartica Sea World is a Riverside waterfront entertainment zone at Sabarmati Riverfront, Ahmedabad.
Located on the banks of Sabarmati River, Entartica Sea World is spread over an area of 2.5 acres. You will have the opportunity to have a wholesome family experience while visiting the International Kite Festival at Sabarmati Riverfront & Ahmedabad Flower show 2023.
The park offers a wide range of entertainment options like River Cruise, Yacht, Jetski, Aqua Roller, Aqua Cycle, Speed Boat and more.Yacht ride is the perfect way to relax and enjoy the scenic beauty of Sabarmati River. Explore the view of Sabarmati river on a Pontoon Boat with your friends & family. Kids can also enjoy a fun ride in a pedal boat on Sabarmati River or have a fun ride in Bumper boats. You can enjoy a thrilling ride on a Speed Boat in Sabarmati River.
There is also a food court inside Entartica Sea World serving Indian and international cuisine to cater to the varied taste buds of visitors.
Plan your visit to International Kite Festival 2023 & Ahmedabad flower show 2023  and also enjoy at Entartica Sea World. You will surely have a fun-filled day with friends and family.